Meet Attorney Norman Kwai Wing Wong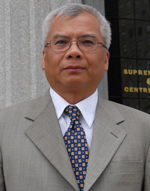 In over 15 years of immigration law practice, Attorney Norman Kwai Wing Wong has enjoyed spectacular success providing complete immigration services for individuals both inside and outside of the U.S.
An impressive educational and legal background helped prepare Attorney Wong well for the legal battles he endured and won in many courts and agencies throughout the U.S., including New York City. Attorney Wong holds a Bachelor's degree from the Chinese University of Hong Kong, a Master's degree from the University of South Carolina, and a J.D. Law degree from the Touro Law Center in New York. Attorney Wong was admitted to practice law with the Appellate Division of the New York State Supreme Court.
Prior to joining the legal profession, Attorney Wong worked for several important government agencies in the U.S., including the New York City Mayor's Office, NYC Charter Revision Commission, NYC City Council Redistricting Commission, and NYC Human Rights Commission.
Attorney Wong's extensive professional experiences in public service and the political arena have served him well throughout his career. His knowledge of U.S. government processes has helped him provide superior immigration services to his clients, successfully navigating the very complex terrain of U.S. immigration laws and government regulations.